Whatever You Make, Make it at BAT
From makers of snacks and sauces, to sideboards to circuit boards, Brooklyn Army Terminal is home to manufacturers large and small who thrive on the campus's affordability, stability, and support.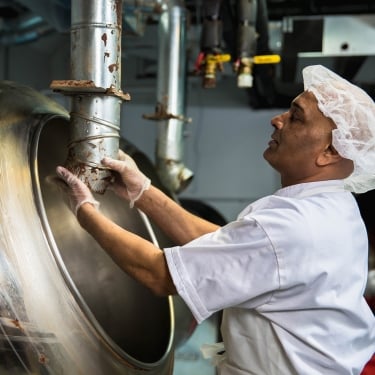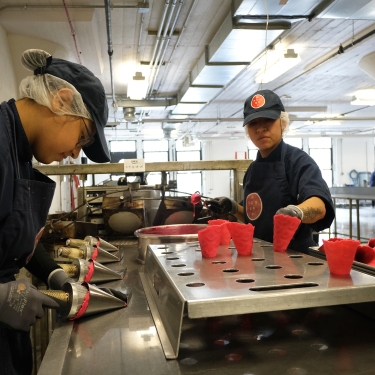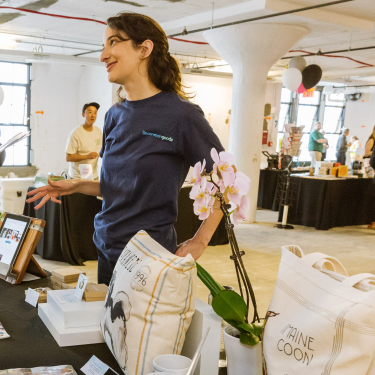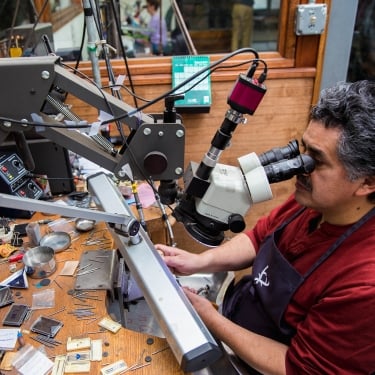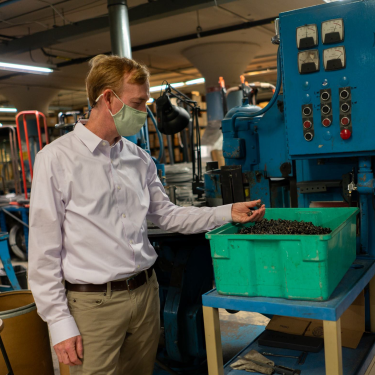 Everything about Brooklyn Army Terminal allows me to grow from the infrastructure, space, lay-out, transportation options, management, and affordability.
RIVA Precision
Jewelry manufacturer, at BAT since 2013
A Manufacturing Community
BAT has a growing ecosystem of companies in traditional and advanced manufacturing, food and fashion, and film/TV/media production. Our campus is built with a flexibility that can meet the needs of 21st-century manufacturing businesses:
Micromanufacturing Hubs offer dedicated space for small industrial businesses to grow within the campus
A Food Manufacturing Hub offers space for small food manufacturing firms
Large floorplates are available for anchor tenants
Businesses at BAT benefit from a range of amenities, including an on-site 24/7 facilities team, workforce development programs, and on-site daycare and universal pre-kindergarten.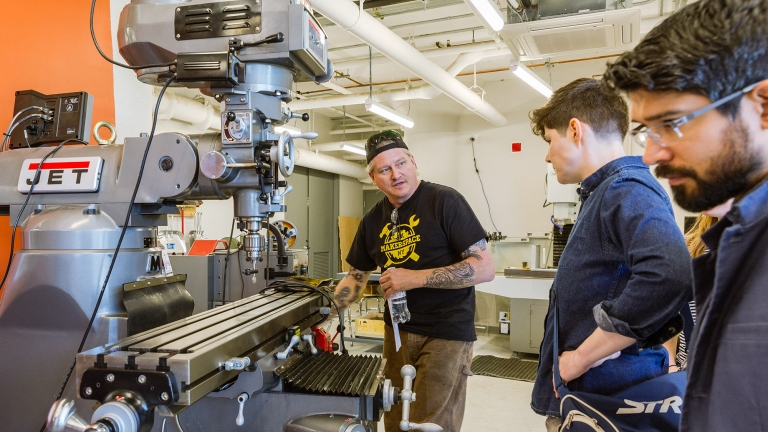 Futureworks Makerspace at BAT
Businesses at BAT can take advantage of Futureworks Makerspace, a 20,000-square-foot advanced manufacturing center with access to high-tech equipment.
Learn More
BAT is also home to BioBAT, a partnership with the Research Foundation for SUNY, on behalf of Downstate Health Sciences University. BioBAT's mission is to:
Foster the growth of the life sciences industry and create jobs
Offer research and manufacturing space to biotechnology and related companies
Provide opportunities to work with SUNY Downstate scientists, clinicians, and students
Engage the broader community through entrepreneurship, workforce development, and educational programs.
Interested in leasing space at BAT? Learn more about available space, amenities, and financial incentives.
Leasing Info Here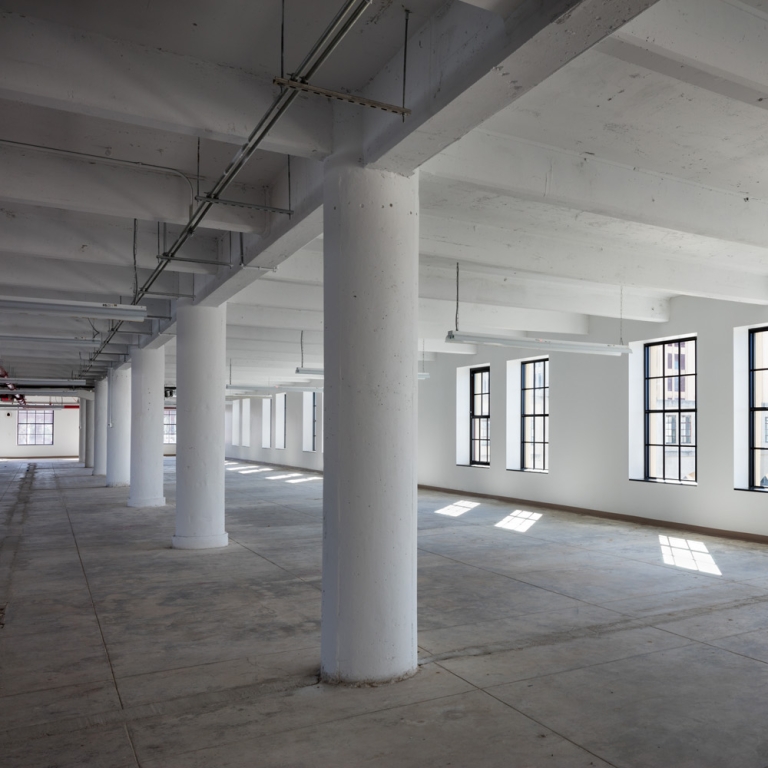 Tenant Directory
Here's a complete list of our current tenants.
| Company | Industry | Building | Suite |
| --- | --- | --- | --- |
| Absolute Mechanical | Technology | B | 5H-5 |
| Adapt Ability | Traditional and Advanced Manufacturing | Annex | 201 |
| AlgiKnit Inc. | Life Sciences / Health | A | Lab 883 |
| Alliance Enterprises IV | Distribution / Warehouse | B | 2D |
| Altronix Corporation | Traditional and Advanced Manufacturing | A | 2N |
| American Museum of Natural History | Arts and Creative | B | 7C |
| APSCO Sports Enterprises | Fashion / Made in NY | B | 1G |
| Arch Furniture | Traditional and Advanced Manufacturing | B | 8F |
| ArtBuilt Brooklyn | Arts and Creative | B | 7G, 7I |
| Artistic Furniture Makers | Traditional and Advanced Manufacturing | B | 1F |
| Avalanche Air | Traditional and Advanced Manufacturing | A | 08EST |
| Back to Africa | Distribution / Warehouse | A | 6M |
| BAT Kids Center | Retail / Campus Amenities | B |   |
| Bay Ridge Sunset Park Dialysis Center | Life Sciences / Health | B | 1I(A) |
| Benson Mills | Traditional and Advanced Manufacturing | A | 7J |
| Best Case and Accessories | Distribution / Warehouse | B | 2I |
| Best Home Decorators | Distribution / Warehouse | B | 6A |
| Bestec Concepts | Fashion / Made in NY | B | 8D |
| Bettertex | Traditional and Advanced Manufacturing | B | 5I |
| Big Apple Graphics/Universal Printing | Distribution / Warehouse | B | 4A |
| BioBAT Inc. | Life Sciences / Health | A | BioBAT South 2nd Fl. |
| Biotia | Life Sciences / Health | A |   |
| Black Sea Imports Inc. | Distribution / Warehouse | B | 2C |
| Brooklyn ImmunoTheraputics | Life Sciences / Health | A | 2100 |
| Brooklyn West Hedges | Traditional and Advanced Manufacturing | A | 5N-2 |
| Button Down Factory | Fashion / Made in NY | A | 5N-7 |
| Calder Biosciences | Life Sciences / Health | A | 8J, 8L |
| Cartridge Evolution | Traditional and Advanced Manufacturing | B | 4E |
| Castrads | Traditional and Advanced Manufacturing | A | 5H-1 |
| Chashama | Arts and Creative | A & B | 4I |
| Chemitope Glycopeptide | Life Sciences / Health | A | 8J |
| City Saucery | Food Manufacturing | Annex | 302 |
| CMS Management Solutions | Distribution / Warehouse | B | 6D |
| Cohen Mattresses | Traditional and Advanced Manufacturing | B | 5H-7 |
| Cortecnet | Life Sciences / Health | A |   |
| Direct Promotions | Fashion / Made in NY | B | 6G, 3F |
| District 20 PreK Center | Retail / Campus Amenities | A | 10WST |
| E.F.S. Designs | Fashion / Made in NY | A | 2M |
| Efram Office Furniture | Distribution / Warehouse | B | 2E |
| Elbrus Air Conditioning Service | Traditional and Advanced Manufacturing | B | 1E |
| Ephemeral Solutions | Life Sciences / Health | A | 8L |
| Evolution Cabinets | Traditional and Advanced Manufacturing | B | 7H-4 |
| FABSCRAP | Fashion / Made in NY | B | 5H-4 |
| Flash Electronics | Distribution / Warehouse | B | 1A |
| Ford Dealership | Retail / Campus Amenities | Free Standing | N/A |
| Futureworks Makerspace | Traditional and Advanced Manufacturing | B | 1C |
| Fuzion Creations | Fashion / Made in NY | A | 7K |
| Fallen Industry Design Studio | Traditional and Advanced Manufacturing | A | 5N-6 |
| Fork & Goode | Life Sciences / Health | A | 842, 843 |
| Global Imports | Distribution / Warehouse | B | 5F |
| Granola Lab | Food Manufacturing | Annex | 303 |
| Green Mustache | Food Manufacturing | B | 7H-7 |
| Guggenheim Museum | Arts and Creative | B | 5C |
| IEH Corporation | Traditional and Advanced Manufacturing | B | 8E |
| International AIDS Vaccine Initiative (IAVI) | Life Sciences / Health | A | 8J, 8L |
| Italian Tile Marble & Granite | Distribution / Warehouse | A | 2DOCK |
| Jacques Torres Chocolate | Food Manufacturing | B | 6H |
| Jewelry Pak Inc. | Traditional and Advanced Manufacturing | B | 7F |
| Jomashop | Traditional and Advanced Manufacturing | B | 3B, 6J, 6K, 6N |
| JT Wood Finishing Corporation | Traditional and Advanced Manufacturing | B | 7H-5 |
| King Teleservices | Technology | B | 7E |
| The Konery | Food Manufacturing | A | 5N-4 |
| Kraus Aerospace, Inc. | Traditional and Advanced Manufacturing | A | 5N-2 |
| LabQ Diagnostics | Life Sciences / Health | A | 3L |
| Lafayette 148 | Fashion / Made in NY | B | 5D, 7D |
| Lee Spring Company | Traditional and Advanced Manufacturing | B | 3C |
| Legend Distributions Inc. | Distribution / Warehouse | A | 3K |
| Liquid Technology | Distribution / Warehouse | B | 8C |
| Li-Lac Chocolates | Food Manufacturing | A | 3M |
| Lowercase NYC | Traditional and Advanced Manufacturing | B | 5H-8 |
| Luxury Gourmet Sweets | Food Manufacturing | Annex | 405 |
| Manex USA | Fashion / Made in NY | B | 6C |
| Marc Joseph NY | Fashion / Made in NY | A | 8M |
| Mark Morris Dance Group | Arts and Creative | A | 09EST |
| Max Wang Studios | Traditional and Advanced Manufacturing | Annex | 402 |
| Mega Aid | Life Sciences / Health | B | 8G |
| Modern Kitchen & Bath Designs | Traditional and Advanced Manufacturing | A | 8K |
| Momo Dressing | Food Manufacturing | Annex | 301 |
| Momo Test Kitchen | Retail / Campus Amenities | Annex | Lobby |
| New York Embroidery Studio | Fashion / Made in NY | A | 8N |
| National Bias Binding | Distribution / Warehouse | A | 2L |
| Nimex Group | Traditional and Advanced Manufacturing | B | 6E |
| Norwegian Baked | Food Manufacturing | Annex | 303 |
| NYWD, Inc. | Traditional and Advanced Manufacturing | A | 6L |
| OEM Source | Distribution / Warehouse | B | 5G |
| Ombligo Group, Inc. | Traditional and Advanced Manufacturing | B | 4G |
| Personal Touch Health Care Apparel, Inc. | Life Sciences / Health | A | 10EST |
| Pete's Brooklyn Eats | Retail / Campus Amenities | B | Lobby |
| Pick and Pack Hub | Fashion / Made in NY | B | 7H-3 |
| Pit Stop | Retail / Campus Amenities | B | Lobby |
| Plazatex Textile Import Export Corp. | Distribution / Warehouse | B | 4F |
| Poursteady | Traditional and Advanced Manufacturing | B | 7H-6 |
| Powercam | Distribution / Warehouse | B | 2G |
| Quality Cutting | Made in NY | B | 4B |
| R. Ben Toe Corp. | Distribution / Warehouse | A | 2K |
| R.A.M.S Mechanical | Traditional and Advanced Manufacturing | B | 4D |
| RegenLab | Life Sciences / Health | A |   |
| RIND | Food Manufacturing | Annex | 202 |
| Riva Jewelry Manufacturing | Traditional and Advanced Manufacturing | B | 8B |
| Rooftop Films | Arts and Creative | Annex | 3E |
| Rvinyl.com | Traditional and Advanced Manufacturing | B | 7H-2 |
| Saedico Corporation | Food Manufacturing | Annex | 401 |
| Saleh and Dirani Architectural Modelling | Traditional and Advanced Manufacturing | Annex | 404 |
| Sentry Elevator Corp. | Traditional and Advanced Manufacturing | B | 5H-1 |
| Siegel & Stockman | Fashion / Made in NY | B | 1D |
| Silly Phillie Creations | Fashion / Made in NY | B | 6F |
| Sleeping Partners International | Traditional and Advanced Manufacturing | B | 3E |
| Solar Time | Traditional and Advanced Manufacturing | A | 7M |
| Star Five Group | Distribution / Warehouse | B | 3A |
| UncommonGoods | Technology | B | 5B |
| USA Made Textiles | Fashion / Made in NY | B | 8H |
| Viva Time Corp. | Distribution / Warehouse | B | 5H-6 |
| We Are the New Farmers, Inc. | Food Manufacturing | Annex | 403 |
| Wiggby Precision | Traditional and Advanced Manufacturing | B | 8A |
| Workforce 1 Industrial & Transportation Career Center | Retail / Campus Amenities | B | Lobby |
| Y D Designs | Traditional and Advanced Manufacturing | B | 7H-4 |