NYCEDC Stories
How a Metal Spring Manufacturer Became Essential During a Pandemic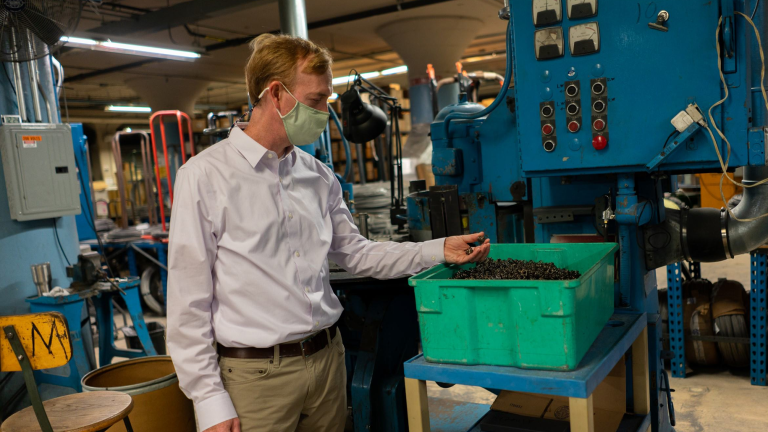 When the demand for medical equipment to combat the coronavirus in New York City surged in March, so did the need for certain springs: elastic coils typically made out of steel and found in a variety of lifesaving devices, such as ventilators. As one of the only manufacturers of these springs left in the city, Brooklyn-based company Lee Spring got to work.
As part of the All In NYC campaign highlighting the city's resilience as it reemerges, rebuilds, and reopens, we're sharing the stories of the people and businesses that make NYC special.
Formed in 1918, Lee Spring has partnered with the medical industry for decades, but never before in its recent history has the company had to shift to such a high volume of production. In the early stages of the pandemic, while many of Lee Spring's customers shut down, springs for new ventilators and hospital beds became the first priority as healthcare facilities were experiencing grave shortages of these supplies. Then came the test kits and pop-up tents for COVID-19 testing stations. The company also saw an increase in demand for springs used in insulin pumps for diabetic patients and power transfer switches, which helps ensure continuous power throughout hospitals.
"We went from selling thousands of springs to suddenly hundreds of thousands just for ventilators," the company's CEO Steve Kempf said. "We received some 60 letters from our customers pleading to stay operational. Many of them are at the forefront of this pandemic fight."
Steve joined Lee Spring, located in the Brooklyn Army Terminal (BAT), in 2004 as its chief executive. With the support of EDC, BAT stayed open and operational throughout the height of the pandemic to allow essential manufacturers like, Lee Spring, to continue to work and serve New York City.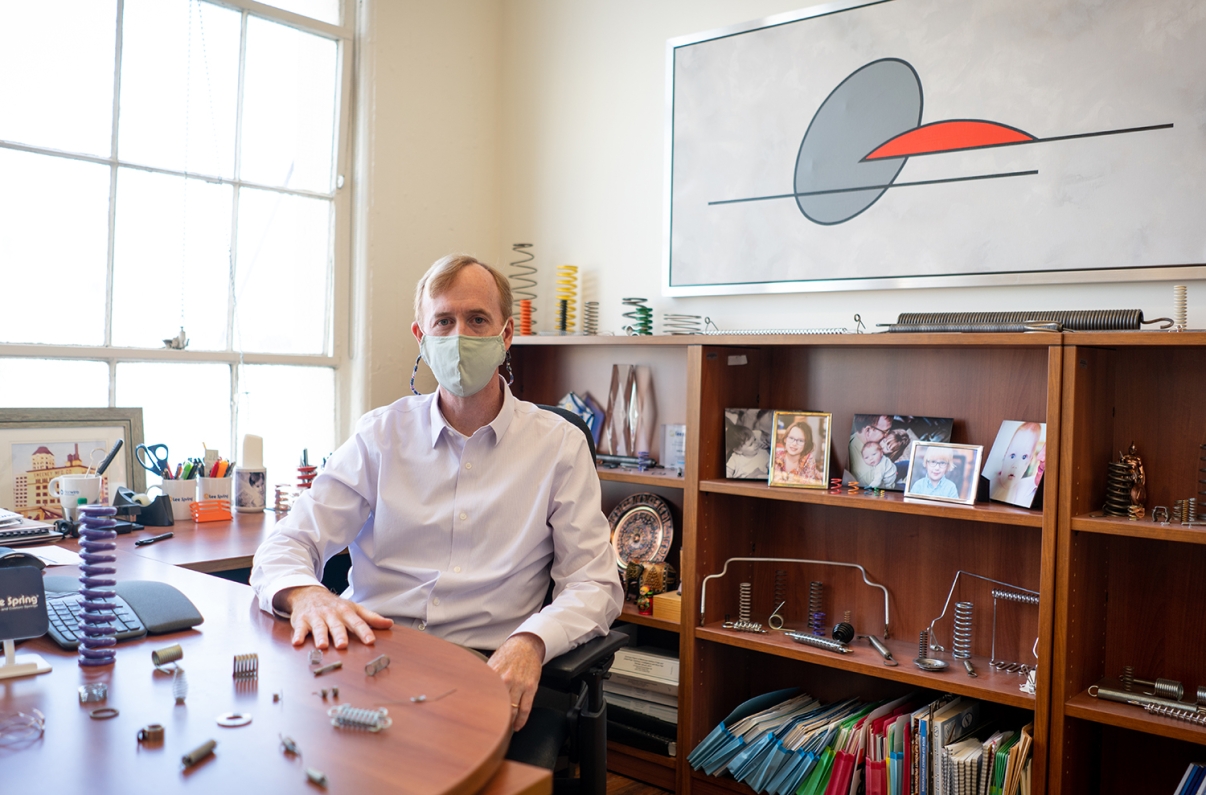 As an entrepreneur and businessman who ran a film distribution company with his brother in Chicago, Steve was drawn to Lee Spring not only for its great product, but also its warm culture, which he described as a "relaxed family atmosphere." The safety and health of the staff—55 percent of whom are over the age of 50—was of the utmost importance for Steve.
The company rolled out several safety changes. It has split its floor workers into two shifts to maintain social distancing, providing half-hour breaks in between shifts for a cleaning crew to sanitize and disinfect the machinery. Plexiglass dividers were set up in the cubicles, where employees' schedules were also broken down into separate shifts. Masks are required and sanitizer stations were placed at every entrance and exit.
Lee Spring develops 30,000 unique spring designs every year for a broad range of industries including aerospace, transportation, automotive, and healthcare. The company has had a strong, steady growth, but when the pandemic hit, about a third of the business dropped overnight.
"Large swaths of companies who purchase products from us shut down, delayed, or canceled orders," Steve recalled. "But [the spike in demand for springs for essential medical equipment] did enough to keep our workers employed and, in addition, led to immense pride and a realization of the importance of our product." Steve explains that near BAT's parking lot is a COVID-19 testing center where his springs are used in the testing kits. "We are part of the solution, making springs that are a critical component of our lives, especially right now."
We are part of the solution, making springs that are a critical component of our lives, especially right now.
Lee Spring celebrated its 100th birthday two years ago. Founded by an immigrant, Joseph Lee Johansen, the company started on Union Street in Brooklyn. They moved in the early 1930s to 30 Main Street Dumbo and stayed there for 50 years. They left Dumbo for Borough Park, where they remained for 36 years before the building was sold as a school. Kempf took the company to its current home at BAT, where he hopes Lee Spring will remain for another 100 years.
"Moving out of the city was always an option, but the lifeblood of our company is New Yorkers and our average tenure is well over 20 years. That's a lot of experience and it's impossible to replace," he says proudly. "When we moved here, we did not lose a single person in the transition."
The company has expanded to seven locations across the United States, with fifteen facilities worldwide, which has enabled it to become adaptive to unexpected economic challenges. "It's part of our larger resiliency plan. We have our production spread out so when, for example, Superstorm Sandy hit in 2012, we were able to go to our location in Connecticut."
Steve believes New York City to be one of the most resilient communities in the country, and possibly, the world. For him and his workers, this pandemic has shown the capabilities the city and its manufacturers hold to meet the needs of a crisis.
"New York City has proved itself time and time again. Whether it's 9/11, Superstorm Sandy, or the Great Recession, they all left a different impact on the city that was able to adjust itself and push forward. The pandemic is no exception," Steve said. "I'm extremely confident that New York City will weather this storm and come out even stronger on the other side. Lee Spring is here to stay."
Learn more about Lee Spring and the city's All In NYC campaign.