Press Release
JoJo & The Soul Rebels featuring Talib Kweli to Perform FREE Concert at the 2019 BAT Block Party at the Brooklyn Army Terminal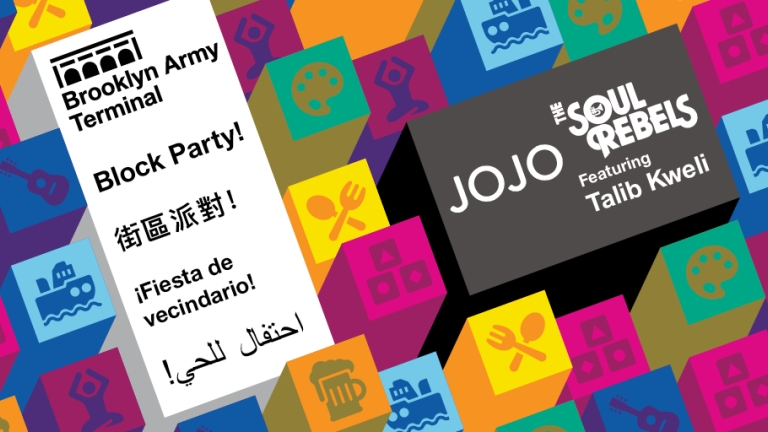 Event on the Southwest Brooklyn Waterfront Includes Beer Garden, Local Food Vendors, Art Galleries, Family-Friendly Activities, and Pop-Ups by Brooklyn Army Terminal-Based Companies
NEW YORK, NY—New York City Economic Development Corporation (NYCEDC) today announced that world-renowned artists JoJo and New Orleans-based band The Soul Rebels featuring Talib Kweli will perform at the 2019 Block Party at the Brooklyn Army Terminal (BAT) on Sunday, September 8 in Sunset Park. The BAT Block Party, FREE and open to all ages, will run from noon to 6pm.
The event will also feature local and community performances, including Folklorico dancers, the so&so String Quartet, and up-and-coming young NYC artists.
JoJo is a chart-topping, award-winning superstar – a gifted singer, songwriter, and actress who, at just 28 years old, is already a veteran of the music industry, having released her self-titled debut album when she was just 13. JoJo's breakout smash "Leave (Get Out)" rocketed to the top of the charts, making JoJo the youngest-ever solo artist to have a debut #1 single in the U.S. and to be nominated for "Best New Artist" at the MTV Video Music Awards. The album went on to sell over four million copies and became the singer's first Platinum record, which she followed with a string of additional hits, most notably the Top 3 single "Too Little Too Late" from sophomore album The High Road. In 2016, JoJo made a heralded return to music with her first new album in 10 years, Mad Love. – debuting Top 10 on the Billboard Top 200 and earning her unanimous critical acclaim from the likes of TIME, Pitchfork, Rolling Stone, Cosmo, Entertainment Weekly and more. Most recently, JoJo re-recorded and re-released her first two albums (JoJo and The High Road) as she looks ahead to new music in 2019.
The Soul Rebels are enjoying a breakthrough year having performed with Katy Perry and on The Late Show with Stephen Colbert, and plan to release their 5th album, "Poetry in Motion," in October. Originally formed in New Orleans, the Soul Rebels bring their signature brass band style to live performances and collaborations with a plethora of major artists ranging from rappers like Prodigy and Buckshot to rock bands like Greenday and Metallica. The Soul Rebels have performed across the country and around the globe including the Summer Sonic Tokyo Festival with Marilyn Manson and Macklemore & Ryan Lewis, and the Fillmore in San Francisco with Metallica.
Talib Kweli is a Brooklyn-based MC who earned his stripes as one of the most lyrically-gifted, socially aware and politically insightful rappers to emerge in the last 20 years. After nearly two decades of releasing mesmerizing music, Talib Kweli stands as one of the world's most talented and most accomplished Hip Hop artists. Whether working with Mos Def as one-half of Black Star, partnering with producer Hi-Tek for Reflection Eternal, releasing landmark solo material or collaborating with Kanye West, Pharrell Williams, Just Blaze, J Dilla, or Madlib, Kweli commands attention by delivering top-tier lyricism, crafting captivating stories and showing the ability to rhyme over virtually any type of instrumental.
The BAT Block Party will feature special art exhibits by local and resident artists of BAT's ArtBuilt Brooklyn and ChaShaMa, as well as an array of fun product demos curated by BAT-based companies like FABSCRAP, Uncommon Goods, We are the New Farmers, Direct Promos and SPark Workshop.
Attendees can also enjoy delicious eats from popular BAT food tenants including The Konery and MOMO Dressing, local food vendors such as Mums Kitchen, and specialty food vendors from NYCEDC Public Markets like Davidovich Bakery and Elma's in East Harlem. Guests aged 21 and over can pair their food with a cold beer in a relaxing beer garden with local craft beer vendors like Five Boroughs Brewery, KCBC Beer and SingleCut Beersmiths and Craft Cider from Empire Cider Company.The Block Party will include several family-friendly activities including carnival rides, kite-making and other crafts, face-painting, and a book making workshop for kids from BAT's Purgatory Pie Press. FREE BAT t-shirts and baseball hats will be available to the first 250 guests.
BAT is the premier affordable hub for modern industrial businesses, entrepreneurs and working families in NYC. The campus has recently completed renovations to open the historic property to the public and increase the community's connectivity to the Sunset Park waterfront. The BAT Block Party is a signature celebration among a calendar of exciting community events at the Terminal this year, including the so&so Sunset Opera, outdoor film screenings by Rooftop Films, the 21st Annual Boricua Festival, and a Summer Concert Series.
WHERE: Brooklyn Army Terminal, 140 58th St, Brooklyn, NY 11220 (map)
Subway: The nearest station is 59 St. (N,R), located about a 10-minute walk from the 58th St. entrance.
Ferry: The NYC Ferry serves the Brooklyn Army Terminal via the Sunset Park stop on the Rockaway and South Brooklyn routes from Pier 11/Wall St., Rockaway and/or Bay Ridge. For more information and schedules, please visit the NYC Ferry website.

BACKGROUND: In 1918, the federal government broke ground on a 4-million-square-foot, Cass Gilbert-designed military facility on the Sunset Park waterfront. This became the Brooklyn Army Terminal, which served the country for decades as a supply base and an Army headquarters during World War II, helping to deploy over 3.2 million troops and 37 million tons of supplies from the New York Port of Embarkation to battlefronts across the globe. In 1958, the campus saw its most famous solider deploy when Elvis Presley left Brooklyn for Germany in 1958.

Today, BAT is a hub for modern manufacturing in New York, with over 100 companies making everything from high-end chocolate to 3D printed clothing and sustainable furniture. The campus features New York City's first co-operatively owned solar garden, the Futureworks Makerspace prototyping facility that provides small businesses and entrepreneurs affordable access to shared industrial grade machinery, and Artbuilt Brooklyn's affordable artist space. NYCEDC has worked to transform BAT into a modern manufacturing hub, as part of the New York Works plan to create 100,000 good jobs over the next ten years.
About NYCEDC
New York City Economic Development Corporation creates shared prosperity across New York City's five boroughs by strengthening neighborhoods and creating good jobs. NYCEDC works with and for communities to provide them with the resources they need to thrive, and we invest in projects that increase sustainability, support job growth, develop talent, and spark innovation to strengthen the City's competitive advantage. To learn more about our work and initiatives, please visit us on Facebook, Twitter, or Instagram.
About Brooklyn Army Terminal
The Brooklyn Army Terminal (BAT) is a modern industrial campus powered by the rich legacy of the South Brooklyn waterfront. The four million square foot campus is home to over 100 businesses and over 4,000 jobs. The de Blasio Administration has invested over $115 million into the Brooklyn Army Terminal to further transform the former U.S. military supply center into a hub for modern manufacturing and accessible jobs. Follow us on Instagram and Facebook or visit bat.nyc for more information.